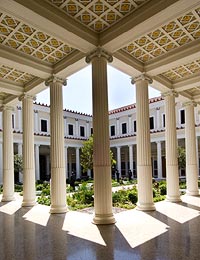 Today was special. My wife's friend Paula has been working on the Getty Villa restoration project for the last several years. Tomorrow is the first day that the Villa will be opened to the public. Today, however, Paula brought about 15 of her friends on a private tour. I was lucky enough to be one of them.
A little background: The Getty Villa was the original Getty Museum before it was relocated to its home high above the Sepulveda Pass. In 1996 the Getty Villa was closed to begin this long restoration project.
Corbin Smith, head of the Getty Villa Project Team, led our tour, and was full of knowledge about the history of the museum, the negative reviews by critics of the original Villa, and how the selected architects chose to embrace the existing architecture rather than abandon it altogether.
I should say something about the architectural style, at least, as much as I can with my limited vocabulary. The experience of entering the museum is designed to look like the museum itself is an uncovered excavation. The colors and layers change as you descend to the lower levels to mach that impression. The cafe upstairs is designed to invoke the notion of a makeshift overhang where excavators would relax. Corbin called all of this
conceit
, and by that he probably meant it as "an elaborate poetic image or a far-fetched comparison of very dissimilar things."
The work they have done is astounding. Items of note: the outdoor theater, the indoor theater. The staircase made from bronze, the wonderful tiled floors and ornate ceilings. The gardens are awesome, and by that I mean they filled me with awe. The roman (greek?) blown-glass exhibit was one of the most beautiful things I've ever seen. Our tour concluded with a visit to the room dedicated to showing the original drawings of the various architectural teams competing for the restoration project, and detailed scale models of the final project. Corbin was knowledgeable, interesting, and clearly enjoyed himself throughout this project.
A little sadness darkens this wonderful reopening:
some of the artifacts which Italy is insisting it wants back are part of the collection in the new Getty Villa.
I cannot wait to go back, although it can't possibly match the calm, quiet and clean atmosphere of the empty grounds. Tickets are free, but must be obtained in advance. The exhibit is currently sold out of all scheduled showings through July.
Thanks, Paula!