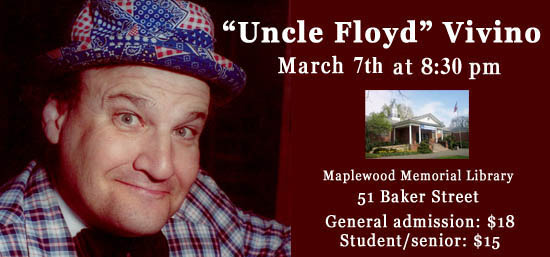 Last night, Beth and I went to see
Uncle Floyd
perform at the
Maplewood Public Library
. The last time I saw a New Jersey legend perform at a local library was when I went to see John Pizzarelli at the Mamaroneck Library in 1994.
With the exception of occasionally seeing Uncle Floyd on his TV show, I didn't know what to expect. Though it was a small crowd of 25 people, Uncle Floyd was shockingly funny. It's clear he's done the same jokes for many, many years ("I'm the only working comedian left with a
Bella Abzug
joke.") and yet he was solidly funny. It's also a bit of a retrospective into
yesteryear
, with jokes about old-style remote control-free TVs, and Alfalfa and the Little Rascals. Some cultural jokes were too early for me, and there were jokes that people younger than me would certainly not get.
Aided by his trademark plaid outfit and bow tie, Floyd was shamelessly self-deprecating, lamenting that after forty one years in show business he finally made it to the basement of the Maplewood Library.
For ninety minutes we all had a great time.